Garland Traffic Ticket Attorney
Garland Traffic Ticket Attorney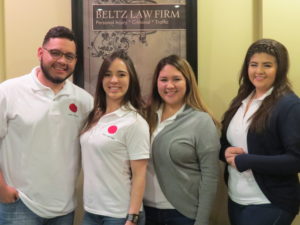 Traffic Ticket Defense in Garland, Texas
Traffic ticket defense has become more and more complex as the years have passed.  Electronic reporting has made a huge difference on The State of Texas' ability to enforce traffic laws as well as asses sanctions a person that is deemed to be a habitual violator of traffic laws.  That is why it is becoming increasingly important to know a good traffic ticket lawyer in Garland that can help advise and assist you in the defense of your traffic ticket. This article will outline some of the issues that you need to be aware of in the defense of a traffic ticket in Garland, Texas.  If you would like to discuss your case with our Garland traffic ticket lawyers after reading this article, please contact our office.
Our trained and experienced legal team has over 10 years of experience in ticket defense in Garland Municipal Court and the surrounding jurisdictions. Traffic law is one of the fastest changing fields in today's legal world.  More and more courts are monetizing their systems to increase profits and decrease legal rights to those charged with a traffic offense. Because of this trend, it has become increasingly important for those charged with ticket offenses to seek the advice of a solid attorney.  Take the time to call a lawyer about your tickets so that you avoid making a mistake that may not be easily undone.
Garland has the reputation of being a difficult court to deal with. Given our experience with Garland municipal, however, one could make the assumption that the negative feedback comes from people with tickets. The other, more likely, reason is that Garland participates in the Scofflaw program which you can read about here. Regardless of the reputation that it has, if you are reading this then chances are you received a citation of your own and are seeking help in getting it resolved.
The settings at this locale are generally two weeks out which gives you time to provide us with any proof that could be relevant to your case. If you had insurance at the time of the offense, or the registration was valid, or you had a valid license and did not have it on you at the time we can take the evidence provided. It is important to receive this information to avoid receiving any convictions on the license that could result in surcharges or points.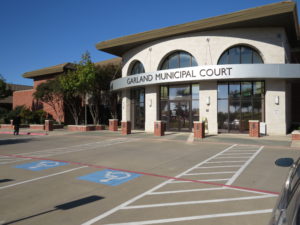 How Convictions Harm You For Traffic Tickets In Garland
Traffic ticket convictions are the root of all evil in Texas.  It is the beginning middle and end of any discussion with our clients regarding the severity of punishment for having a bad driving record.  With everything being reported electronically, it is a must to understand how to avoid traffic ticket convictions in Garland Municipal Court.
Garland is like any other court in regards to upholding the law and carrying out punishments in an attempt to rectify the offense and prevent it from happening again. That being said, we cannot make the citations disappear but we can very well lessen the impact from the citations and provide you with a professional skill set to ensure justice is carried out. Save yourself the hassle and do not aim to handle this on your own and instead hire our professional staff and experienced attorney.
The Cost Of Messing Up A Traffic Ticket
Did you know that the average cost of having a bad driving record for traffic ticket convictions in Garland, Texas ranges from $1500.00 – $2500.00 over a 3 year period.  All it takes are a few traffic ticket convictions for an insurance rate to increase $30.00 to $50.00 per month. Take that number and multiply it by 36 months (the length of time a ticket affects your driving record) and you get a seriously high amount.  The average surcharge for a traffic ticket conviction ranges from $450.00 – $780.00 over a 3 year period. The cost of getting an occupational license in Garland, Texas is about $1000.00 for a license that has been suspended. Would you like for us to keep going?  This is before your attorney is paid after the record has been messed up this bad.
What to Expect from Attorney-Client Communication at The Beltz Law Firm
Communication is key to a good working relationship with anyone.  This holds true with your lawyer as well. When you are hiring a traffic ticket attorney you have to realize that the communication will be limited in some ways.  The reason for this is due to the thin profit margin a traffic ticket reaps for a law firm. Specifically, a lawyer's going rate in Dallas County is $250 – $325 per hour.  The normal rate for a trustworthy and experienced traffic ticket lawyer is around $75. This is 3 – 4 times less than the going rate for most legal services provided.
For this reason, you need to be concise and specific with your communication.  Make sure you set forth your goals and expectations from the first phone call. Make sure that the lawyer can meet your goals and expectations for the fee paid.  If they cannot, make sure you determine how much it will cost to do this.
Our communication efforts from the beginning of the first phone call center on the goals and expectations of each client.  If you choose to fill out our traffic ticket questionnaire for a case in Garland Municipal Court you will be required to fill out a facts section as well as a goals/expectations section.  This allows our attorneys to understand what you want to have happen with your case and whether or not it will be possible based on the budget allotted to the matter ($75). In no case should you expect a lawyer to take your case to The Supreme Court Of Texas for the type of fee you pay for a traffic ticket.  However, this does not mean that you should not expect a great value in return for the fee you pay.
Was This Article Helpful? Please Rate It:
★★★★★
"
I always wondered why it was recommended to plea not guilty. Very educational!
"
★★★★★
"
Very helpful, professional and informative!
"
★★★★★
"
Thank you so much for not giving up on my son's case! You all were wonderful.
"