Speeding In A Construction Zone Traffic Tickets In Wylie, Texas
Wylie Speeding Ticket Attorney
Speeding Ticket Defense Lawyer
214-321-4105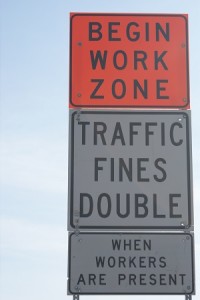 Getting any type of speeding ticket can easily ruin a day.  However, when a person receives a speeding ticket for speeding in a construction zone it can make a bad day worse.  This article is intended to help those understand the current state of the law as it pertains to speeding in a construction zone tickets in Wylie, Texas.  If you would like to talk with our legal professionals about your recent speeding ticket in Wylie, feel free to call us.
Speeding In A Construction Zone In Wylie
The problem with speeding in a construction zone tickets are that the law is unforgiving in Texas.  Normally, when a speeding ticket is received a person can keep the violation off their permanent record by either taking defensive driving or requesting deferred adjudication.  However, the legislature has determined that these types of violations are more serious in nature due to the risk that a construction worker could be killed if people do not obey the signs meant to protect them.  Because of this risk, Texas has decided to disallow those charged with speeding in a work zone with workers present to choose either of these options.
This means that a person charged with speeding in a construction zone either have to accept that it will go on their permanent record or prepare to take the case to trial based on the facts of the case.  Although this sounds like a drastic move to take for a traffic ticket it may be a necessary move depending on the driving record of the person charged.  The risk of harm to the driver is further increased if they carry a commercial driver's license.
There are other options short of setting a case for trial.  However, they are met with mixed reviews.  Because Wylie, Texas does not have a court of record, cases can be appealed out of the courts there in an attempt to find a friendlier forum in Collin County Court at Laws located in McKinney, Texas.  However, there are judges there that are worse than any judge you would run across in Wylie, Texas.  If you end up having your case put into one of those courts, once again, you are stuck with the trial option only as a means of trying to protect your record.
We suggest you get an attorney familiar with traffic laws on your case sooner rather than later if you are dealing with a speeding in a construction zone ticket in Wylie, Texas.  Because the options are limited, the more time a lawyer has to work your case, the better chance you may have of obtaining a successful outcome.  Contact our Wylie speeding ticket lawyers today to have us review your case.
Was This Article Helpful? Please Rate It: